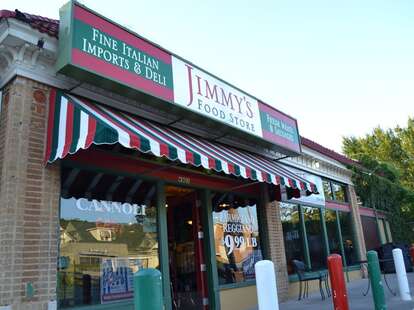 David Maez/Thrillist
David Maez/Thrillist
This Dallas mainstay is the go-to local spot for all-things-Italian. Founded in 1996, the specialty food store has been a family-owned crowd favorite for over 50 years. Daily, the staff hand-rolls meatballs and bakes Italian sweets (with old, family recipes, of course) in the back of the shop, while in front, they help patrons select gourmet groceries and bottles from their carefully curated Italian wine selection. Locals can order hefty, fresh sandwiches at the counter, sample house-made olives, and shop for everything from imported balsamic vinegars, to handmade pastas. The imported cheese and meat selections are expansive, the antipasti bar is stuffed, and in true Italian fashion, dollar espresso shots are available all day. And while the folks at Jimmy's offer wine tastings on Saturdays, the wine room tucked behind the store is open to guests all week.
Wednesday
9:00 AM - 7:30 PM
Thursday
9:00 AM - 7:30 PM
Saturday
9:00 AM - 7:30 PM
This neighborhood icon opened in 1966. It's more of a shop than a restaurant, but it gets the nod here because the food is just so damn good. Stroll the narrow aisles and pick up a few cans of whole Italian tomatoes and some vino for tonight's dinner, or leave it all up to the professionals with a bag of housemade pasta and sauce. The freezers are stocked with pizzas and lasagnas, and the sandwich counter makes some of the best overstuffed subs in town. If you're new here, get an Italian Stallion, stacked with—get this—mortadella, capicola, soppressata, pepperoni, provolone, porchetta, prosciutto, coppa, and mozzarella. Take a seat at one of the small tables in the back room or post up outside the front door and dive into all that meat.
How to book: Stop by for first come, first served seating.
Wednesday
9:00 AM - 7:30 PM
Thursday
9:00 AM - 7:30 PM
Saturday
9:00 AM - 7:30 PM