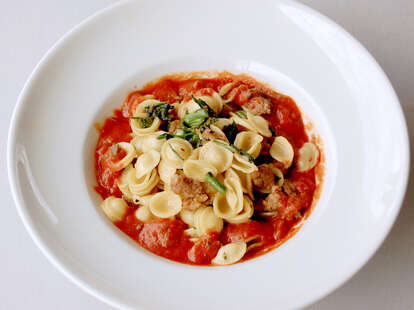 This cozy neighborhood resto dishes out Coastal Southern Italian foodstuffs that are as addicting as they are pretty. Start with saffron-kissed arancini or smoked salmon affumicato before moving onto the regionally inspired big guns -- think squid-ink lobster pasta, fresh zuppa di mare, and crispy, bone-in veal chop.
Tuesday
11:00 AM - 9:30 PM
Wednesday
11:00 AM - 10:00 PM
Thursday
11:00 AM - 10:00 PM
Friday
11:00 AM - 10:00 PM
Saturday
11:00 AM - 10:00 PM
Want real deal Italian with some turkey on the side? Roma will be open Thanksgiving Day with the option of a Classic Thanksgiving Plate by chef Kevin Bryant, featuring house-roasted turkey with dressing and brown gravy, green bean casserole, yams, mashed potatoes, a house salad, butternut squash soup, and a dessert of choice. You can add on Roma favorites like the Polpette di Manzo, because who is to stop you from pregaming with some meatballs?
Cost: The Thanksgiving Plate runs $59 per person with a la carte options available.
Tuesday
11:00 AM - 9:30 PM
Wednesday
11:00 AM - 10:00 PM
Thursday
11:00 AM - 10:00 PM
Friday
11:00 AM - 10:00 PM
Saturday
11:00 AM - 10:00 PM