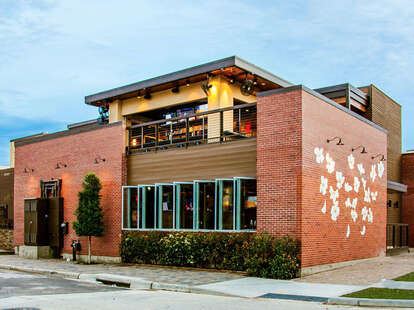 Not only do they have a rooftop bar, but patios wrap around the entirety of this open-air building design at The Dogwood meaning MAXIMUM outdoor time on a warm summer's night. With a southern-influenced menu perfect for bar snacking and Deep Eddy Sweet Tea Vodka on top, what more could you need?
Wednesday
4:00 PM - 2:00 AM
Thursday
4:00 PM - 2:00 AM
Saturday
11:00 AM - 2:00 AM
Not only does this premium party spot house a killer rooftop bar, but the patio wraps around the entirety of the open-air building design, meaning MAXIMUM al fresco time on a warm summer's night. To clarify: By warm summer's night, we actually mean hot summer's night, but that's what the Deep Eddy sweet tea vodka on tap is for, right?
How to book: Stop by for first come, first served seating.
Wednesday
4:00 PM - 2:00 AM
Thursday
4:00 PM - 2:00 AM
Saturday
11:00 AM - 2:00 AM