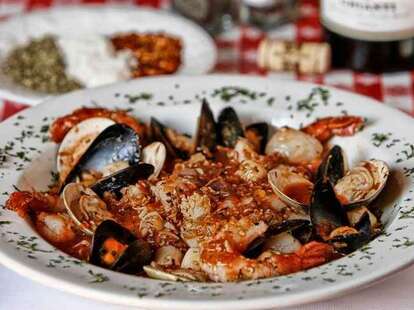 Courtesy of Chicago Joe's
Courtesy of Chicago Joe's
For over forty years this unassuming Italian spot has been drawing crowds of regulars (and mob members). The simple and classic menu has everything you could need, and nothing you don't.
Tuesday
11:00 AM - 10:00 PM
Wednesday
11:00 AM - 10:00 PM
Thursday
11:00 AM - 10:00 PM
Friday
11:00 AM - 10:00 PM
Saturday
5:00 PM - 10:00 PM
Having a meal at Chicago Joe's feels like dining inside somebody's house—which is exactly what it used to be. The single-story brick structure dates back to the 1930s and officially became a restaurant in 1975. The same family has run the place all this time and much like the menu of classic Italian-American staples, the decor hasn't changed much with red-and-white tablecloths, lace curtains, and old wood furniture on display. A single string of green Christmas lights still dangles from the ceiling in a tight corner. Between Lasagna, Linguini and Clam Sauce, and Veal Parm, the menu is all about home-style comfort with few surprises. Chicago Joe's suspended lunch hours during the pandemic and labor shortage, but remains open for dinner. Contact the restaurant directly for the latest hours.
How to book: Call 702-382-5637 or head online to book a reservation.
Here's a reason to visit Downtown and skip Fremont Street altogether. Turn down 4th St and keep your eyes peeled for Chicago Joe's, an old brick home that was transformed into a cozy Italian joint four decades ago. It's been drawing loyal regulars, including members of the mob, ever since. And if mobsters know anything, it's choosing Italian restaurants. The Christmas lights stay up in a corner year-round, giving you a clear but colorful look at the baked rigatoni and other traditional favorites on the menu. Chicago Joe's suspended lunch service during the pandemic and worker shortage, but remains open for dinner five days a week.
How to book: Call 702-382-JOES to secure a reservation.
Tuesday
11:00 AM - 10:00 PM
Wednesday
11:00 AM - 10:00 PM
Thursday
11:00 AM - 10:00 PM
Friday
11:00 AM - 10:00 PM
Saturday
5:00 PM - 10:00 PM