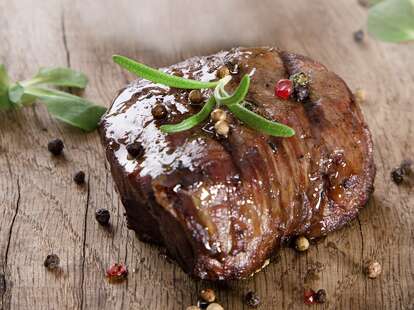 Located inside Westgate Resort and Casino, Edge Steakhouse fuels carnivore fantasies with prime steaks, Snake River Farm Wagyu beef, and fresh fish. While the higher price points may be overwhelming, the experience of a white tablecloth meal in a marble- and chandelier-decked space, as well as starter options like pepper crusted beef carpaccio and spicy shrimp served in a sweet chile reduction, completely delineate this restaurant from your standard American eatery.
Thursday
5:00 PM - 10:00 PM
Saturday
5:00 PM - 10:00 PM
There's nothing better than saying "I know a place" and taking your date by surprise—in a good way, of course. Edge Steakhouse at the Westgate has a perfectly fine dining room with plenty of room for trade show parties that filter over from the neighboring Las Vegas Convention Center. But for a change of pace, request a seat at the recently renovated and expanded bar, where head bartender Mike Thompson is usually on duty—a longtime customer favorite who's ready to hand out a stiff Manhattan and a dose of New York-flavored hospitality. He'll guide you through the menu, which is in great hands these days under the direction of new executive chef Rhori Kow. Try the five-course tasting menu and leave the tough decisions in the hands of the kitchen team. Edge Steakhouse is usually closed on Mondays, but will be open for Valentine's Day, serving the regular menu.
How to order: Place an online reservation or try your luck and request bar seats by calling 888-796-3564.
Thursday
5:00 PM - 10:00 PM
Saturday
5:00 PM - 10:00 PM