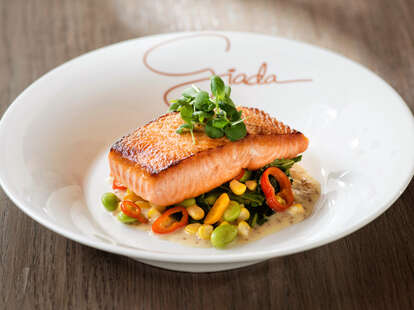 This new Italian- and Mediterranean-inspired resto has floor-to-ceiling views of the busiest intersection on the Strip. Call for a reservation because everyone else wants eat here too.
Thursday
5:00 PM - 10:00 PM
Saturday
5:00 PM - 10:00 PM
Long before she actually had a restaurant of her own, Giada de Laurentiis was in the public eye as a cookbook author and television personality on the Food Network. That all changed when she finally opened Giada as the flagship restaurant at The Cromwell hotel, serving bright, inspired takes on Italian cuisine with coastal California touches. The dining room is an engaging space with windows that open up to the fresh air above Las Vegas Boulevard. Just be aware there's a $25 per person fee for a table next to the windows—a move that's a little much in a city already full of unexpected fees and charges. However, the food lives up to the hype, especially the Shrimp and Mascarpone Spaghetti and the Cacciatore-Style Fried Chicken. The celebrity chef also lent her name to Pronto by Giada, a casual wine bar for brunch and lunch at Caesars Palace.
How to book: Call 702-777-3759 to request a window table.
Thursday
5:00 PM - 10:00 PM
Saturday
5:00 PM - 10:00 PM