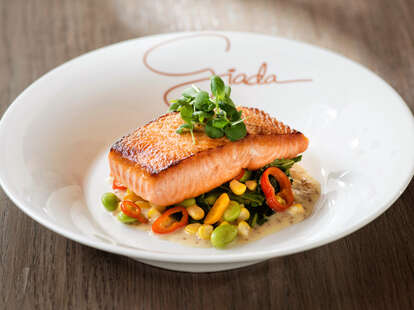 CAESARS ENTERTAINMENT
CAESARS ENTERTAINMENT
This new Italian- and Mediterranean-inspired resto has floor-to-ceiling views of the busiest intersection on the Strip. Call for a reservation because everyone else wants eat here too.
Thursday
5:00 PM - 10:00 PM
Saturday
5:00 PM - 10:00 PM
Giada proves that your dining room doesn't have to be dark and moody to qualify as romantic. The first and only full-scale restaurant by celebrity chef Giada De Laurentiis still feels new, even though it's gearing up for a hard-to-believe 10th anniversary in 2024. Located on the second floor of the boutique Cromwell hotel, Giada is decorated in wood tones and vintage Italian movie posters with pizzas cooked to order in view of the guests. The perch overlooks the iconic intersection of Las Vegas Boulevard and Flamingo. Pay a little extra (usually $25 per person) for a guaranteed table by the windows, which open wide when the weather's right. If anything, the kitchen team has only grown more comfortable over the years, serving vibrant Italian cuisine with a coastal influence—whether the "coast" is Amalfi, Calabria, or Southern California. Flavor and presentation merge perfectly in the lemon and mascarpone spaghetti (with the pasta twirled tight into a tower and framed by a pair of plump shrimp), or lobster plated loosely between its accompanying ravioli instead of being wedged inside.
Long before she actually had a restaurant of her own, Giada de Laurentiis was in the public eye as a cookbook author and television personality on the Food Network. That all changed when she finally opened Giada as the flagship restaurant at The Cromwell hotel, serving bright, inspired takes on Italian cuisine with coastal California touches. The dining room is an engaging space with windows that open up to the fresh air above Las Vegas Boulevard. Just be aware there's a $25 per person fee for a table next to the windows—a move that's a little much in a city already full of unexpected fees and charges. However, the food lives up to the hype, especially the Shrimp and Mascarpone Spaghetti and the Cacciatore-Style Fried Chicken. The celebrity chef also lent her name to Pronto by Giada, a casual wine bar for brunch and lunch at Caesars Palace.
How to book: Call 702-777-3759 to request a window table.
Thursday
5:00 PM - 10:00 PM
Saturday
5:00 PM - 10:00 PM