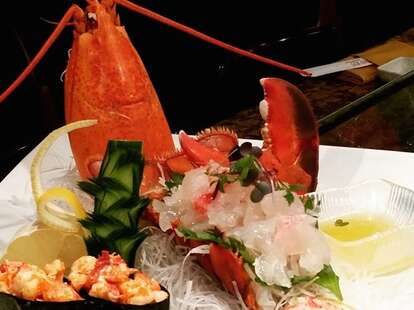 KUMI
KUMI
Nobu is more than just a restaurant. It's also a hotel-within-a-hotel at Caesars Palace. But the buzz begins with the sushi and the snapper with dry miso. It's the biggest Nobu restaurant in the world and the only one in the US to come with teppan tables for that Japanese steakhouse experience.
Thursday
5:00 PM - 10:00 PM
Saturday
5:00 PM - 10:00 PM
He may not be the most famous name on this list, but Nobu Matsuhisa is likely the most influential. He popularized dishes like Black Cod Miso, Firecracker Shrimp, and Jalapeno Yellowtail, which are now common on Japanese menus throughout the industry. The iconic chef knows the power of branding. Instead of branching out with numerous concepts, he continues to open Nobu locations throughout the world, including two in Las Vegas (Caesars Palace and Virgin Hotels) with a third on the way in 2022 at the Paris casino. If that wasn't enough, he even has a Nobu hotel tower at Caesars Palace.
How to book: Book an online reservation at Caesars Palace or Virgin Hotels.
Thursday
5:00 PM - 10:00 PM
Saturday
5:00 PM - 10:00 PM