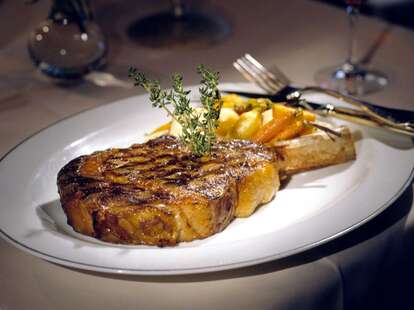 MGM RESORTS INTERNATIONAL
MGM RESORTS INTERNATIONAL
Chef Jean-Georges Vongerichten's Prime is one of the many gems of the Bellagio, serving up traditional steakhouse fare with unexpected and creative sauces and condiments, like their crystallized onion tamarind glaze.
Wednesday
5:30 PM - 9:30 PM
Thursday
5:30 PM - 9:30 PM
Saturday
5:30 PM - 9:30 PM
Yes, it's another gorgeous restaurant with another gorgeous view of the Bellagio fountains, but the patio at Prime is nothing short of breathtaking, and is easily the best of the best when it comes to patios, views, and Las Vegas restaurants in general (as a coveted AAA Four Diamond recipient). Prime doesn't just refer to the beef served, but also serves as a spot-on description of the location and views. If you're going to splurge on a high-end steakhouse in Vegas, this is the one to do it.
How to book: Reservations can be made via SevenRooms.
Wednesday
5:30 PM - 9:30 PM
Thursday
5:30 PM - 9:30 PM
Saturday
5:30 PM - 9:30 PM