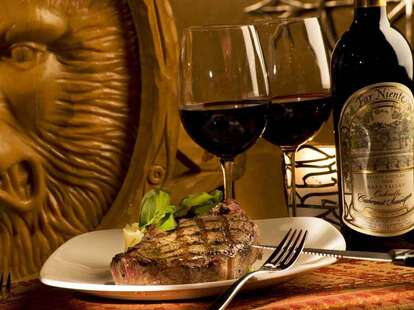 Located on the 50th floor of the Rio Hotel and Casino, VooDoo offers a great two-for-one: yes, it's a crazy, party-all-night club and lounge where you can bottle service with the best of them. But the VooDoo is <em>also</em> a world class steakhouse and French resto with a Haitian twist (hence the name). Where else can you dance till <em>and</em> get a 14 0z. New York Strip in the same place?!
VooDoo Nightclub never returned after shutting its doors during the pandemic, but sister restaurant VooDoo Steak is back open Friday and Saturday nights. The dining room is surrounded by panoramic views of Las Vegas from the 50th floor of the Rio hotel, providing a dazzling backdrop during dinner. Find time between courses to take your drink out to a spacious outdoor patio for an up-close look at the lights and beauty of the Strip in all its glory. The menu features the expected steakhouse fare with a three-course prix fixe menu that includes a surf n' turf main entree. Bring a few friends and try the Witch Doctor, a shareable rum cocktail served with dry ice in a fishbowl.
VooDoo Steak has a commanding perch on the 50th floor of the Rio hotel. Stay classy with a smooth glass of wine or shift into party mode with the Witch Doctor—a fishbowl sized cocktail-for-two that makes an immediate statement with a cloud of dry ice and a $45 price tag. At least four different rums are used in the recipe, which is balanced out by pineapple juice, raspberry, and grenadine for a sweet treat that goes down easy. Almost too easy.
How to book: Score a reservation online or just walk in and take a seat at the bar.