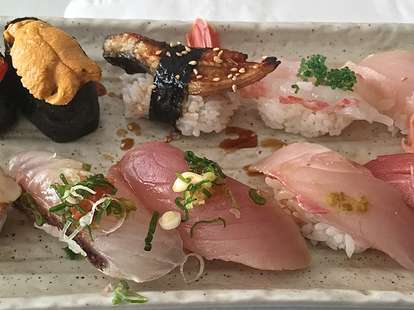 Photo by Wilder Shaw for Thrillist
Chiba Japanese Restaurant
Many people consider Chiba to be the best sushi in the Valley, and many people are probably right. If you're really watching your wallet, you can get a $10 bento that features sashimi, shrimp, vegetable tempura, salad, rice, and miso soup. But if you're just tossing your wallet in the air, for $29, you can get yourself the Jyo Nigiri -- a 10-piece, chef's-choice plate featuring toro, sweet shrimp, and maybe the best uni in LA. The new location features an extended parking area and a patio. They've also upgraded to a full liquor license which is a win for everyone.
Tuesday
11:30 AM - 2:30 PM
Wednesday
11:30 AM - 2:30 PM
Thursday
11:30 AM - 2:30 PM
Wednesday
5:30 PM - 9:30 PM
Thursday
5:30 PM - 9:30 PM
Saturday
5:00 PM - 10:30 PM
A Valley mainstay for decades in both its old location and after its move to Lankershim, Chiba is the type of sushi place where, once you've come a few times, Chef Shig will remember you and start digging deep into his fish for more and more exotic options. And while you're becoming a regular, you'll love standbys like albacore, scallops, and much more.
How to book: Call 818-765-9119 for reservations or order pickup online.
Tuesday
11:30 AM - 2:30 PM
Wednesday
11:30 AM - 2:30 PM
Thursday
11:30 AM - 2:30 PM
Wednesday
5:30 PM - 9:30 PM
Thursday
5:30 PM - 9:30 PM
Saturday
5:00 PM - 10:30 PM