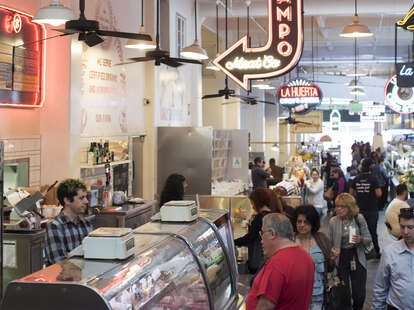 Courtesy of Grand Central Market
Open since 1917, Grand Central Market is hands-down the original food hall. The DTLA mainstay celebrates the eclectic cuisine of the city with a vendor roster that includes Belcampo Meat Co., Berlin Currywurst, Eggslut, Jose Chiquito, McConnell's Fine Ice Cream, The Oyster Gourmet, and so much more.
Tuesday
8:00 AM - 10:00 PM
Wednesday
8:00 AM - 10:00 PM
Thursday
8:00 AM - 10:00 PM
Saturday
8:00 AM - 10:00 PM
First opened more than a century ago, Grand Central Market didn't start out as a food hall, but its move towards new, flashier tenants around a decade ago kicked off the larger food hall trend in Southern California. Now it is an institution in LA's dining scene, a collection of outstanding stalls that have drawn crowds downtown for years. Empires like Alvin Cailan's Eggslut have been launched from Grand Central, and it's given a home to talented chefs looking to pivot as the team at Shiku has, while maintaining space for legacy tenants like Tacos Tumbras a Tomas. There's also a Golden Road counter for any Mango Cart cravings, Broad Street Oyster Co. for lobster rolls and New England-style seafood, vegan Ramen Hood, Olio's wood-fired, Neapolitan-style pies, Horse Thief BBQ, plus countless other vendors and cuisines, a fresh farmers market, Latin market, and even a jewelry counter.
The 30,000-square-foot food hall has been around for over a century, offering just about every type of cuisine you can imagine, with long-term tenants like Tacos Tumbras and China Cafe, alongside tantalizing newcomers like restaurateur Maria Petulla's Knead, boba tea and sandwich shop Moon Rabbit, and fried chicken connoisseur Lucky Bird. You can also get fresh oysters and champagne from The Oyster Gourmet, pull up to Golden Road's counter for a fresh brew, get some creamy scoops of McConnell's Fine Ice Creams, then finish it off with a photo souvenir at the vintage-inspired Photomatica booth.
How to order: Walk up.
Tuesday
8:00 AM - 10:00 PM
Wednesday
8:00 AM - 10:00 PM
Thursday
8:00 AM - 10:00 PM
Saturday
8:00 AM - 10:00 PM