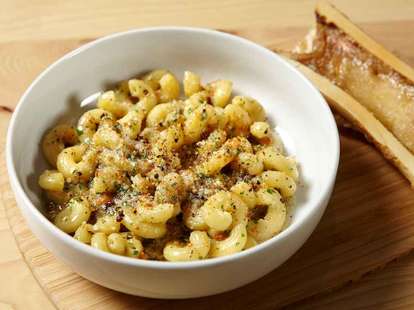 Andrea Bricco
Andrea Bricco
Love & Salt is an Italian restaurant with a California soul. Try its breakfast-meets-lunch options, which include Nutella toast with strawberries & sea salt, a smoked fish board with housemade bagels (the chef is from New York, so you know these will be good), and wood oven-baked eggs with grilled bread.
Tuesday
5:30 PM - 10:30 PM
Wednesday
5:30 PM - 10:30 PM
Thursday
5:30 PM - 10:30 PM
Saturday
5:30 PM - 11:00 PM
Named after the two most important ingredients in any dish, Love & Salt is helmed by Sylvie Gabriele, whose father Guy Gabriele ran the successful French restaurant Cafe Pierre in the same location from 1977 until 2014, when it was rebirthed as Love & Salt. The restaurant features Italian-inspired cuisine with Cal-fresh sensibility, resulting in dishes like Creste di Gallo Midollo withbone marrow, roasted garlic, parsley, parmesan, and cracked black pepper,and intriguing wood-oven pizza options, like their Anchovy and Caper pie withsalted anchovies, fried capers, basil, Calabrian chili, and San Marzano tomatoes. The cocktail and wine list make the restaurant a favorite for weekend brunch.
How to book: Make reservations online. Order pickup via Toast and delivery online.
Tuesday
5:30 PM - 10:30 PM
Wednesday
5:30 PM - 10:30 PM
Thursday
5:30 PM - 10:30 PM
Saturday
5:30 PM - 11:00 PM