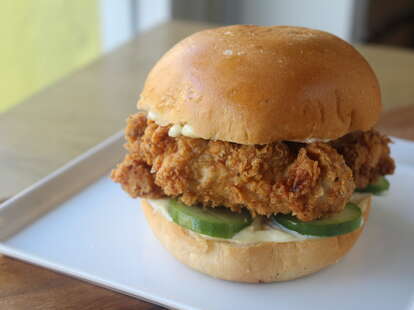 An adorable cafe in the Flower District, Poppy + Rose knows a thing or two about comfort food. Take the super-tender buttermilk-brined fried chicken, which is served atop a brown butter vanilla Belgian waffle with a side of smoked honey butter. Not comforted yet? Try the biscuits and gravy or pulled-pork hash. Tucked between wholesale flower warehouses, this breakfast/lunch spot has a shabby chic vibe accentuated by subway tiles, mismatching chairs, and French-style carafes of water on every table.
Wednesday
6:00 AM - 3:00 PM
Thursday
6:00 AM - 3:00 PM
Saturday
6:00 AM - 3:00 PM
Founded in 2014 by husband-and-wife Michael and Kwini Reed, Poppy+Rose has earned its way onto an array of "Best Breakfast" and "Best Chicken and Waffles" lists and for good reason. Southern comfort dishes with fresh ingredients are the main draw here, with menu highlights including a buttermilk fried chicken and waffle, and the less-expected Kitchen Sink Bowl with sunny side up eggs, jasmine and basmati brown rice, quinoa, sweet potato, kale, green onion, pickled carrot, chili, bacon, and BBQ pulled pork. Located directly across the street from the Original LA Flower Market, we've long decreed Poppy + Rose as the perfect way to fuel up before or after hitting the market.
How to order: Reservations are required for patio dining and can be made online; order pickup or delivery via Chownow.
Wednesday
6:00 AM - 3:00 PM
Thursday
6:00 AM - 3:00 PM
Saturday
6:00 AM - 3:00 PM