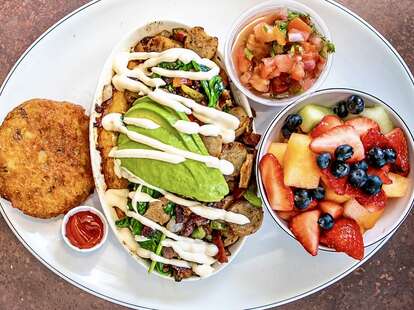 Helmed by a husband-and-wife duo, The Breakfast Bar is a local Long Beach haunt know for its grease-laden menu of recipes passed down through relatives. One of the most popular items is The Hungover, a meal (though it's advertised as an appetizer) of two eggs scrambled with cheese and sausage, served over French fries, then topped with sausage gravy, pico de gallo, and spiced sour cream. Think of it as the lovechild of an omelet, poutine, and nachos. Not strictly for those who are hungover, and not to be missed.
Wednesday
6:00 AM - 3:00 PM
Thursday
6:00 AM - 3:00 PM
Saturday
6:00 AM - 3:00 PM
With locations in Belmont Heights and downtown, The Breakfast Bar's reputation precedes it. Perhaps that's because they aim to recreate the family recipes of owners Josh and Pamela Beade in a laidback and friendly environment, plus a creative cocktail menu with selections such as the La Paloma Loca—grapefruit tequila served in a schooner with a champagne split. Or just cut to the chase and order the Cinnamon Toast Crunch shot, a mixture of Rum Chata and Fireball. The menu features comfort food classics and the hearty Hung Over Breakfast Poutine, which consists of french fries topped with pork sausage, bell peppers, and onions with a heavy serving of gravy, served with pico de gallo and sour cream.
How to order: Walk-ins welcome or order online.
Wednesday
6:00 AM - 3:00 PM
Thursday
6:00 AM - 3:00 PM
Saturday
6:00 AM - 3:00 PM