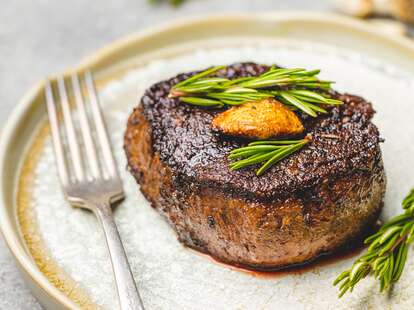 Featured In
The 12 Best Steakhouses in Miami
Consistency is key, and over the decade EDGE has been in business, it's delivered standout steaks marked by little deviation and much satisfaction. This longevity—in Miami terms, anyway—is due in large part to the workmanship of Aaron Brooks, who's stayed put at the Four Seasons plating up Aussie Lamb, inventive desserts, and Creekstone Farms steaks that never disappoint. EDGE is also the lone steakhouse on this list dually responsible for one of Miami's best burgers, making this an equally fantastic spot for lunch as it is for dinner.
The 15 Best Burger Joints in Miami
Steakhouse burgers could almost be considered a category all their own, as the quality of fresh-ground meat they typically employ is head and shoulders above the beef found in less serious locales. And if you're a fan of this upmarket style, you won't find a better one in Miami than at EDGE, a sometimes-overlooked chophouse tucked inside the Four Seasons. The 7x Wagyu burger is cooked over the same grill as the steaks, and the flavor of the flame sets off the fattiness of the beef. With that inherent complexity, all it needs is a slab of aged cheddar and a soft bun to qualify for the honors.
How to book: Reserve via OpenTable.