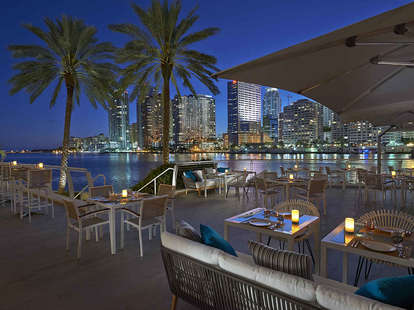 Tuesday
8:00 AM - 11:00 AM
Wednesday
8:00 AM - 11:00 AM
Thursday
8:00 AM - 11:00 AM
Wednesday
6:00 PM - 9:30 PM
Thursday
6:00 PM - 9:30 PM
Saturday
8:00 AM - 11:00 AM
Saturday
6:00 PM - 10:00 PM
Striking the perfect balance between bustling and romantic is nearly impossible, but this Gaston Acurio outpost in the Mandarin Oriental has both the pizzaz to get you amped and the calming presence to facilitate some quality one-on-one time. Enter through the busy dining room, stroll past the open hot kitchen and sushi counter, and stop for a moment to marvel at the hustle of the chefs keeping up with the endless demand. Then step outside to the patio, set just above the running path around Brickell Key, and let it all go amid the tranquil waterfront view overlooking the Brickell skyline and the Rickenbacker causeway. Believe it or not, the food here can make you forget about that stellar view, with the best ceviches in Miami leading off a dinner of causas, saltados, and other Peruvians staples done as well as you'll find anywhere north of Lima.
Offering what is arguably one of the absolute best waterfront views in the city, La Mar at Mandarin Oriental gives diners unobstructed glimpses of Brickell, Downtown, and Biscayne Bay. The menu centers on Peruvian cuisine inspired by chef Diego Oka's travels around the world. Popular dishes include the Chaufa Aeropuerto with chinese sausage, roasted pork, fried rice, shrimp omelet, quinoa, egg noodles, and pickled vegetables; Lomo Saltado with stir-fried tenderloin, red onions, tomatoes, soy sauce, cilantro, thick-cut potato wedges, white rice, and choclo; and Tiradito Bachiche, a fluke tiradito with 24-month Parmesan cheese, leche de tigre, colatura, garlic chips, and basil oil.
How to book: Reserve via SevenRooms.
Tuesday
8:00 AM - 11:00 AM
Wednesday
8:00 AM - 11:00 AM
Thursday
8:00 AM - 11:00 AM
Wednesday
6:00 PM - 9:30 PM
Thursday
6:00 PM - 9:30 PM
Saturday
8:00 AM - 11:00 AM
Saturday
6:00 PM - 10:00 PM