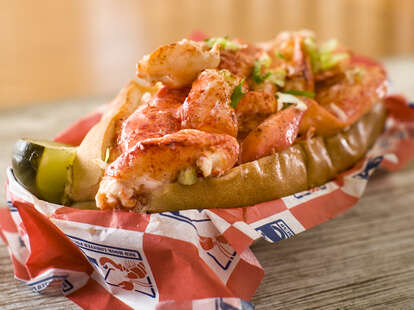 Greenpoint Fish & Lobster Co.
At Greenpoint Fish and Lobster Co., you can expect to find only the highest quality of sustainably sourced seafood. This narrow spot -- awash in white tile and blonde wood with a seating area surrounding a marble bar and open kitchen -- is nothing short of a seafood haven. Head to the market in the front and do some grocery shopping of your own, where you'll find plenty of options on the ice.
Tuesday
12:00 PM - 9:30 PM
Wednesday
12:00 PM - 9:30 PM
Thursday
12:00 PM - 9:30 PM
Friday
12:00 PM - 10:30 PM
Saturday
11:00 AM - 10:30 PM
Lobster Joint's friendly neighborhood competition, Greenpoint Fish & Lobster Co., sits at 114 Nassau and boasts a sprawling, seafood-centric menu. At the pinnacle of that lineup is the restaurant's sought-after lobster roll, which is heaped with claw and knuckle meat, tossed in a touch of mayo, minced celery, lemon juice, and tarragon. It's served on a buttery, lightly toasted bun. It's fresh in flavor, generous in size, and won't break the bank. If you're closer to Midtown Manhattan, head to their outpost at The Hugh food hall instead.
Tuesday
12:00 PM - 9:30 PM
Wednesday
12:00 PM - 9:30 PM
Thursday
12:00 PM - 9:30 PM
Friday
12:00 PM - 10:30 PM
Saturday
11:00 AM - 10:30 PM