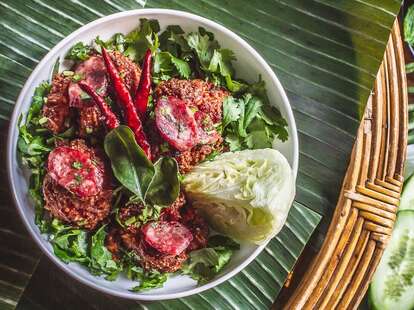 10 Reservations to Book Now for NYC's Summer Restaurant Week
Opened by chef and owner Soulayphet Schwader and co-owned by chef Marc Forgione, Khe-Yo is one of NYC's first restaurants dedicated to Laotian cuisine and offers a taste of Laos with the sophistication diners have come to expect in Tribeca. Signature items include favorites like crunchy coconut rice balls with spicy lime leaf sausage; sweet chili Bell & Evans chicken; and chili prawns with ginger scallion toast. Throughout the summer from 7 pm - 10 pm, their Duane Street block is closed off to cars for a Friday night series featuring a live streetside jazz concert at the nearby corner of Hudson Street.
Special lunch and dinner offerings: Lunch includes a choice of appetizers like jumbo lump crab, crispy berkshire pork spring rolls, or hoisin glazed chicken wings; and entrees like yellowfin tuna poke, honey ginger glazed cornish hen, or hanger steak pad see ew. Dinner includes a choice of appetizers like crispy duck legs, sweet sausage & vidalia onions, or wok seared prawns; and entrees like banana leaf wrapped red snapper, coriander crusted yellowfin tuna, or curried hanger steak lettuce wraps.