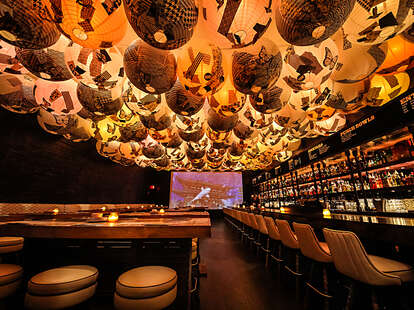 Bang Bang is a sushi palace in San Diego that lets you dine on top of a koi pond, and's got crazy signature rolls like the Bruce Lee, as well as a banana-bacon ice cream sandwich.
Bang Bang was forced to shutter permanently during the pandemic, but we were thrilled to see it reopen this spring under new management. They've pretty much kept the place as it was, including the gigantic disco ball, and yes, the notorious Ryan Gosling ladies' room. Expect a great selection of nigiri, sashimi, and a list of specialty rolls like Hello Kitty (spicy tuna, shrimp tempura, avocado in a pink soy paper topped with bay scallops, tempura flakes, chili aioli, and eel sauce). If you don't like your Bruce Lee roll with a side of party, you can always mellow out in the sushi room.
How to book: Reservations can be made online. Walk-ins are accepted if seating is available.