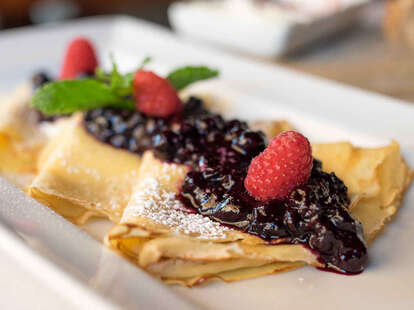 This charming French restaurant has a killer atmosphere: imagine candles, exposed stone, and wood details. They do a delicious brunch menu that includes a couple crepe plates that steal the show. You can also try the "Bohemian Menu," which is a pre-fixed, three course menu offered on Tuesdays that will only set you back thirty dollars.
Wednesday
5:00 PM - 9:00 PM
Thursday
5:00 PM - 9:00 PM
Saturday
5:00 PM - 9:00 PM
Kensington
Warm, candlelit, and unassuming, Bleu Boheme fosters intimacy with shareables like moules-frites prepared seven different ways, charcuterie and fromage boards, and nearly 30 wines served au pichet. Homey classics dominate the entree list, elevated even further by carefully crafted sides; Coquille St. Jacque, luxurious on its own, includes large, dry-packed sea scallops flanked by saffron lobster risotto, linguisa, asparagus, fennel, and basil pistou sauce, while Confit de Canard perches a glazed Hudson Valley Muscovy duck leg confit on creamy goat cheese polenta, tangy mustard greens, olive relish, and green sauce.
How to book: Reservations are recommended and can be made online or calling 619-255-4167. Walk-ins are accepted if seating is available.
Wednesday
5:00 PM - 9:00 PM
Thursday
5:00 PM - 9:00 PM
Saturday
5:00 PM - 9:00 PM