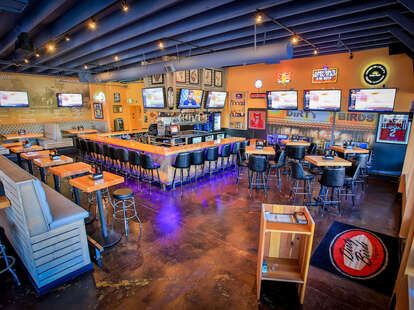 Photo courtesy of Dirty Birds
Dirty Birds offers 30 flavors of wings in a spot overlooking the Pacific, as well as several flatscreen TVs to monitor your favorite game.
Monday
11:00 AM - 12:00 AM
Tuesday
11:00 AM - 12:00 AM
Wednesday
11:00 AM - 12:00 AM
Thursday
11:00 AM - 12:00 AM
Sunday
11:00 AM - 12:00 AM
Saturday
11:00 AM - 2:00 AM
A perennial favorite on various "Best Wings'' lists, Dirty Birds offers 37 different wing sauces, as well as burgers, salads, sandwiches, and loaded tots/fries. All locations have between 10 and 24 rotating beer handles, dozens of flat screen and HDTVs for game viewing, and a full bar with several craft cocktail selections at a reasonable $8-$12 price point. Daily specials include $21.95 all-you-can-eat wings on Mondays after 6 pm and all-day happy hour on Tuesdays. Super Bowl Sunday will feature Dirty Bird's usual weekend special—$3 Mimosas, $12 Champagne Bottles, $5 Stella Pints, $15 Stella Pitchers, $18 Buckets, and $5 Svedka shots.
Monday
11:00 AM - 12:00 AM
Tuesday
11:00 AM - 12:00 AM
Wednesday
11:00 AM - 12:00 AM
Thursday
11:00 AM - 12:00 AM
Sunday
11:00 AM - 12:00 AM
Saturday
11:00 AM - 2:00 AM