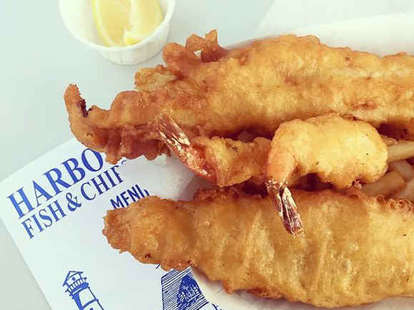 At this classic, family-owned fish and chippery portions are generous and everything is delicious, just be prepared to defend your food from seagulls that patrol the area, especially if you sit outside.
Tuesday
11:00 AM - 9:00 PM
Wednesday
11:00 AM - 9:00 PM
Thursday
11:00 AM - 9:00 PM
Friday
11:00 AM - 10:00 PM
Saturday
11:00 AM - 10:00 PM
You don't have to look at the menu to know what's the best-selling menu item at Harbor Fish & Chips, a family-owned mainstay that's served Oceanside since 1969. Long, battered spears of flaky white fish and a big pile of hot, salty fries make a tempting meal, but they can also be nestled into warm tortillas and topped Baja-style with cabbage, pico, and crema. This is where you'll want to indulge in all your fried fish fantasies, but if you prefer, they also offer grilled options simply seasoned with butter, a house herb blend, or garlic. Visit Tuesday through Friday for a buck off fish tacos, grilled plates, and samplers.
How to book: Indoor and harborside patio seating is on a first-come basis.
Tuesday
11:00 AM - 9:00 PM
Wednesday
11:00 AM - 9:00 PM
Thursday
11:00 AM - 9:00 PM
Friday
11:00 AM - 10:00 PM
Saturday
11:00 AM - 10:00 PM