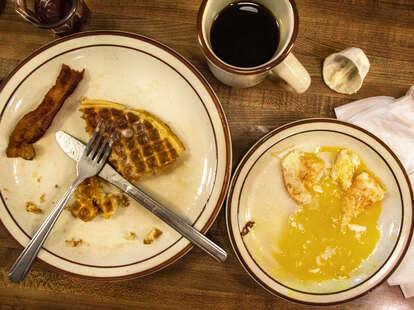 This New York-style diner in the heart of California surfer territory ditches the NYC attitude, while serving up 12 styles of omelets and creative coffee options, like a mocha with Mexican chocolate and espresso. What's more, Harry's Coffee Shop is the genius force behind the B.W. Benny, a nationally acclaimed recipe that takes a golden brown waffle stuffed and topped with bacon, adds grilled ham and poached eggs, and drowns it in hollandaise.
Wednesday
6:00 AM - 3:00 PM
Thursday
6:00 AM - 3:00 PM
Saturday
6:00 AM - 3:00 PM
Harry's Coffee Shop opened in 1960, and judging from the wall of fame in the back of the place, has sponsored every sports league in the city since. They serve up exactly what you expect: Bacon Pancakes come with chunks of bacon in the batter and a couple of slices on top, and they still serve that grilled chicken with the Greens, Strawberry, Feta, and Pecan Salad that was all the rage in the early aughts, and is still pretty delicious today. Harry's isn't one of those places that never updates its menu though, you'll also find espresso drinks and cold brews, as well as gluten-free options.
How to book: Indoor seating is on a first-come basis.
Wednesday
6:00 AM - 3:00 PM
Thursday
6:00 AM - 3:00 PM
Saturday
6:00 AM - 3:00 PM