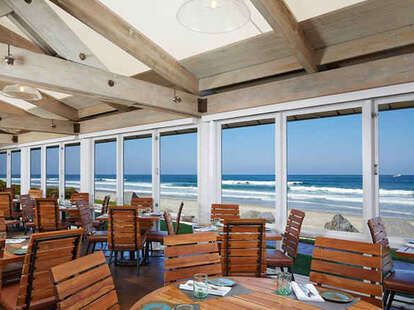 Typically, a beach front view would mean a price hike on the menu, but there's only one item at Jake's over $20 (it's the Lobster Club and it's totally great). Don't forget to save room for a slice the famous Hula Pie (macadamia nut ice cream pie with chocolate cookie crust, hot fudge, toasted macadamia nuts, and whipped cream).
Wednesday
12:00 PM - 9:00 PM
Thursday
12:00 PM - 9:00 PM
Saturday
12:00 PM - 9:00 PM
The violet hour couldn't be any more stunning than at Jake's Del Mar, from the sun-bleached wood beams and soft-focus lighting to the sounds of crashing surf on the beach mere steps from your table. Gussied-up entrees make date night special—Togarashi Spice Crusted Ahi includes a sidecar of a sushi rice cake, French beans, umami-rich oyster and shitake mushrooms, soy butter, and crunchy pickled green papaya; or opt for Maine lobster, scallops, shrimp, and fresh fish poached in a savory saffron tomato broth, atop a crisp risotto cake. Whatever you select, don't pass on Jake's famous Hula Pie with macadamia nut ice cream piled high on a chocolate cookie crust and dripping hot fudge, either as a dessert or whizzed into a nutty, thick shake and topped with a float of Selvarey chocolate rum.
How to book: Reservations are recommended and can be made by calling 858-755-2002. Walk-ins are accepted if seating is available.
Wednesday
12:00 PM - 9:00 PM
Thursday
12:00 PM - 9:00 PM
Saturday
12:00 PM - 9:00 PM