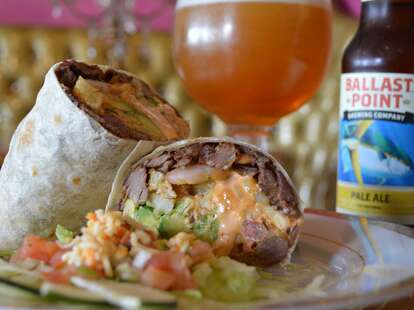 Lucha Libre Taco Shop in Mission Hills embodies the zany energy of the Mexican brand of masked pro wrestling. In a high-energy space with hot pink walls, framed pop art, and lucha masks all around, tacos and burritos are the true champions. One such knockout is the Surfin' California burrito, a 14in tortilla packed tight with steak, shrimp, avocado, French fries, cheese, pico de gallo, and chipotle sauce. Discounts on various menu items are rewarded to those crazy enough to show up in an actual lucha mask.
Monday
10:00 AM - 11:00 PM
Tuesday
10:00 AM - 11:00 PM
Wednesday
10:00 AM - 11:00 PM
Thursday
10:00 AM - 11:00 PM
Sunday
10:00 AM - 11:00 PM
Saturday
10:00 AM - 2:30 AM
This high-energy, Mexican wrestling-themed taqueria has an entire section of its menu dedicated to the California burrito, with options that go beyond the traditional, including pork adobada, carnitas, birria. However, its most famous for its Surfin' California, a massive 14-inch flour tortilla stuffed with piles of carne asada that's been soaked in a lime marinade, shrimp, chipotle mayo, house-made french fries, pico de gallo, sliced avocado, and cheese that you can order until 2:30 am.
How to order: Seating is on a first-come basis. Order online for pickup or delivery via Toast from Mission Hills or North Park.
Monday
10:00 AM - 11:00 PM
Tuesday
10:00 AM - 11:00 PM
Wednesday
10:00 AM - 11:00 PM
Thursday
10:00 AM - 11:00 PM
Sunday
10:00 AM - 11:00 PM
Saturday
10:00 AM - 2:30 AM