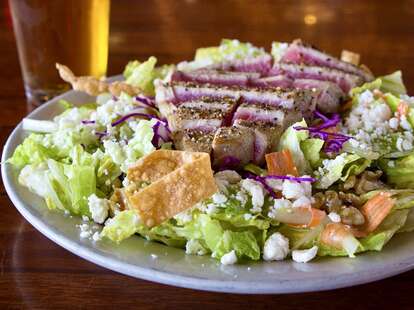 Rumor has it that the best fish tacos in San Diego can be found at South Beach Bar and Grille, just a stone's throw from the Pacific Ocean in Ocean Beach. Mahi tacos are served with cheese, red cabbage, salsa fresca, and white sauce, piled high on a soft flour tortilla (though corn tortillas are available upon request). The fish is so soft and moist it nearly melts in your mouth, and the teriyaki and pineapple marinade lend a tangy taste that will make your lips pucker. For the taco-averse, you can choose from a variety of fried seafood, like lobster, wahoo, shark, calamari, and shrimp, as well as burgers, chicken, and vegetarian options. Enjoy your dish and watch the sun set as you sip on a drink from the bar that offers 22 tequilas and more than 40 beers.
Tuesday
11:00 AM - 2:00 AM
Wednesday
11:00 AM - 2:00 AM
Thursday
11:00 AM - 2:00 AM
Saturday
11:00 AM - 2:00 AM
Happy hour: Monday–Friday 3–6pm, plus other daily specials
Happy hour here gets you half-off all appetizers, plus daily specials like $3.95 tacos all day on Tuesday and Thursday, and six oysters for $6 on Fridays. Drink in the deals on weekends with $3 mimosas, $5 bloody Marys, and $8 bottled mimosas, or weekday specials including $7 Patron margaritas, and $5 glasses wine or drafts, depending on the day.
Swaying palms, a front-and-center view of the OB Pier, and a dozen different seafood tacos make South Beach Bar and Grill a must-try for any seafood lover. Fresh yellowtail, fried oysters, grilled swordfish, and lobster sauteed in a wine and garlic butter sauce are just a few of your options, stuffed in either corn tortillas topped with chipotle salsa, cabbage, cheese, and lime crema, or flour tortillas with pico de gallo, cabbage, and white sauce. Check out their daily specials, like Taco Tuesday, when you can get most tacos for just $3.95, Patron margaritas are $7 all day, and apps are half price from 3–6 pm.
How to book: Seating is on a first-come basis.
Tuesday
11:00 AM - 2:00 AM
Wednesday
11:00 AM - 2:00 AM
Thursday
11:00 AM - 2:00 AM
Saturday
11:00 AM - 2:00 AM