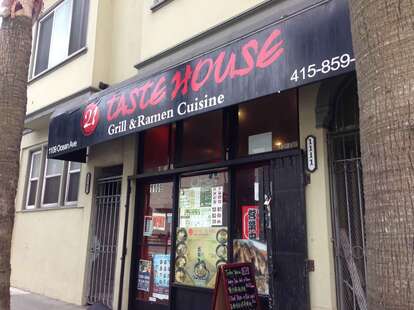 photo by TREVOR FELCH for THRILLIST
21 Taste House has over 20 ramen options to choose from: there's the heart-attack-in-a-bowl cheese tonkotsu ramen, a seafood ramen, and an entire category devoted to cold ramens.
Tuesday
11:00 AM - 9:00 PM
Wednesday
11:00 AM - 9:00 PM
Thursday
11:00 AM - 9:00 PM
For quite possibly the most interesting ramen variation in SF, head towards the Balboa Park BART station. Just a few blocks away is this laidback ramen favorite featuring a fascinating signature curveball: traditional pork-based ramen with a hefty dose of lobster in the broth. It's nothing like lobster bisque if that's what you're thinking; rather, it's a wonderfully balanced surf and turf marriage that hums with pork-centric umami and lobster-infused sea brine. For good measure, the lobster "house specialty" ramens come topped with a deep-fried soft-shell crab, which turns out to be the greatest soup garnish ever (forget about those oyster crackers in clam chowder). But if that's a little too adventurous for you, 21 Taste House offers more traditional ramen styles as well.
How to enjoy: Walk-ins only. Order delivery or pickup with delivery apps.
Tuesday
11:00 AM - 9:00 PM
Wednesday
11:00 AM - 9:00 PM
Thursday
11:00 AM - 9:00 PM