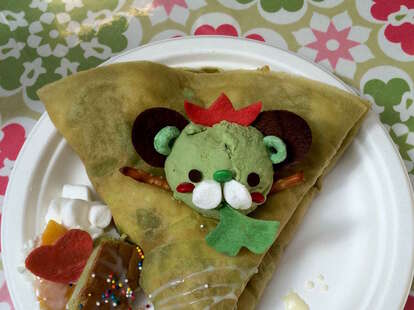 Belly Good is a Japantown staple, and it isn't for the faint of heart. Its crepes are filled with ice cream, whipped cream, chocolate, marshmallows, and syrups, then sweetened up even more with bear, cat, chicken, and monster faces.
Tuesday
11:30 AM - 8:00 PM
Wednesday
11:30 AM - 8:00 PM
Thursday
11:30 AM - 8:00 PM
Saturday
11:30 AM - 9:00 PM
There are a couple of places to get Japanese street-style dessert crepes that you eat like a giant ice cream cone with your hands. But Belly Good wins for being most kawaii, with animal and monster faces making up the signature happy face crepes. Choose your own combo of ice cream, sauce, fruit, and toppings that range from cornflakes to peanut butter.
How to order: Walk in or order pickup or delivery via delivery apps.
Tuesday
11:30 AM - 8:00 PM
Wednesday
11:30 AM - 8:00 PM
Thursday
11:30 AM - 8:00 PM
Saturday
11:30 AM - 9:00 PM