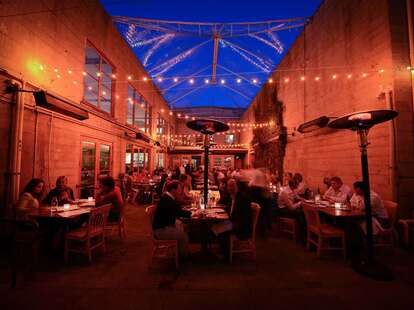 Photo courtesy of Foreign Cinema
The Mission's Foreign Cinema projects movies every night and serves a Californian menu with an oyster selection for the books. Where else can you find date-worthy dinner, one of the best brunches in the city (hello, house-made pop tarts), patio seating, and screenings of classic movies all under one roof? Trust us: this James Beard-nominated restaurant is one of the most important places you need to eat at in your lifetime.
Wednesday
6:00 PM - 2:00 AM
Thursday
6:00 PM - 2:00 AM
Saturday
11:00 AM - 2:00 AM
Foreign Cinema is the perfect brunch spot for a special occasion. Maybe that's because it's the kind of brunch you want to plan ahead for (aka: make reservations because you probably won't get in if you don't), which automatically ups the ante. You'll be stoked you're so responsible when you're sitting in the open-air courtyard enjoying oysters, house-made "Pop Tarts," and one of the best Croque Madames in town. Of course, no one (who eats meat) brunches at Foreign Cinema without getting the Slow-Cooked Brown Sugar-Smoked Bacon, which is salty, sweet, and would almost ruin all other bacon forever if ruining bacon forever were a thing that could happen.
Surprise your date with a twist on "dinner and a movie" by taking them to Foreign Cinema, a beloved SF restaurant that's been going strong for 20 years and shows subtitled films on the back wall of the enchanting courtyard with heat lamps and twinkling string lights. This is where you'll want to sit with your date (although the inside with its 18-foot ceilings and exposed beams is also quite lovely if outdoor seating isn't available). It's almost imperative that you order oysters (or even better the plateaux des fruit de mer), but from there, you really can't go wrong with any of the California-Mediterranean fare. Be sure to also spend some time with the wine list as Foreign Cinema has one with something for all palates and bank accounts.
How to book: online.
Wednesday
6:00 PM - 2:00 AM
Thursday
6:00 PM - 2:00 AM
Saturday
11:00 AM - 2:00 AM