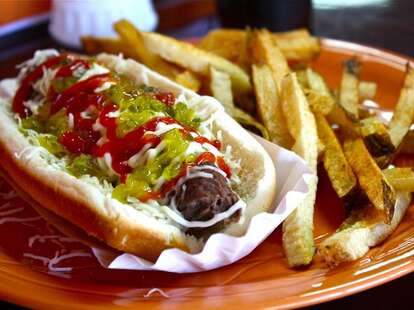 Photo courtesy of Frisco Fried
Photo courtesy of Frisco Fried
Here to blow your mind, FF's the spot for all manner of delectable "SF-style soul food" -- including the aforementioned/groundbreaking innovation -- lovingly cooked up by a couple of lifetime Hunter's Point residents in a comfy space near Candlestick...
Tuesday
11:00 AM - 7:00 PM
Wednesday
11:00 AM - 7:00 PM
Thursday
11:00 AM - 7:00 PM
Saturday
12:00 PM - 9:00 PM
Anyone who has ever looked down on SF's "Frisco" nickname will quickly change their mind after getting a taste of the Lemon Pepper Fried Chicken at this soul food spot owned by a San Francisco native. The recipe is his grandfather's and is definitely the thing to order; we like to get ours with a side of mac n' cheese and garlic noodles.
How to book: Walk-ins only.
Whenever someone scoffs at the usage of "Frisco" as an abbreviation for "San Francisco," saying that no one who lives here really says that, we point them in the direction of Frisco Fried, where SF native and chef/owner Marcel Banks continues his family's legacy of feeding the Bayview community—he's the third generation to do so—alongside his Uncle Gregory Banks. Everything at the restaurant is "fried with pride," but the star of the show is the crisp, golden, juicy, fried-to-order Lemon Pepper Fried Chicken that's based on a recipe passed down from Marcel's grandfather.
How to enjoy: Open for walk-ins seven days a week, as well as takeout and delivery.
Tuesday
11:00 AM - 7:00 PM
Wednesday
11:00 AM - 7:00 PM
Thursday
11:00 AM - 7:00 PM
Saturday
12:00 PM - 9:00 PM