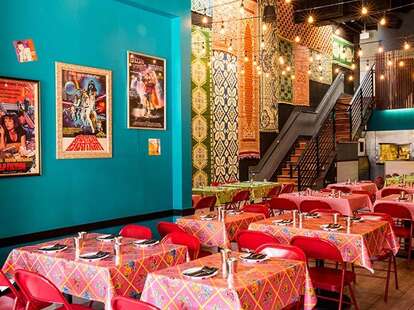 Photo courtesy of Hawker Fare
The Mission outpost of this beloved Oakland eatery turns up the heat with spicy Thai-style street food and Tiki cocktails. The Thai-Issan menu features coconut milk curries and grilled meat dishes, as well as spicy salads and sides like chicken fat rice and fermented mustard greens. The family-style portions, picnic tables, and massive space make Hawker Fare an island oasis perfect for a group dinner.
Tuesday
5:30 PM - 10:00 PM
Wednesday
5:30 PM - 10:00 PM
Thursday
5:30 PM - 10:00 PM
Saturday
3:00 PM - 11:00 PM
If your group doesn't want to spend a ton but still wants really tasty food and good cocktails, make a reservation at Hawker Fare. The Thai street food menu is family-style and the casual space is large with twinkle lights, colorful oilcloth tablecloths, red folding chairs, and almost seems to beg for boisterous conversation, so if things get a little rowdy, there's no need to stress.
How to book: Book tables for up to 15 people online. For larger groups, email hawker.fare.sf@gmail.com.
Tuesday
5:30 PM - 10:00 PM
Wednesday
5:30 PM - 10:00 PM
Thursday
5:30 PM - 10:00 PM
Saturday
3:00 PM - 11:00 PM