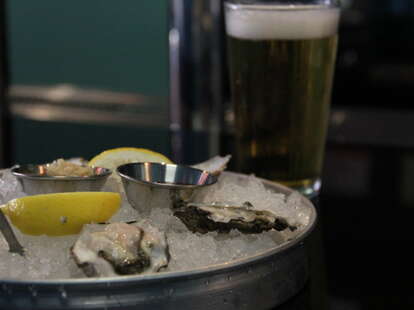 Hog Island Oyster Bar, located in the Ferry Building Marketplace, does its namesake proud; for those that love oysters, few places do it better. With outdoor seating that truly completes the seafaring experience, a grilled-cheese sandwich with superb word-of-mouth buzz, and cold, IPA brews to complement, Hog Island has serious make-a-day-out-of-it appeal.
Tuesday
11:00 AM - 9:00 PM
Wednesday
11:00 AM - 9:00 PM
Thursday
11:00 AM - 9:00 PM
Saturday
11:00 AM - 9:00 PM
The very best way to enjoy Hog Island Oyster Co.'s oysters is at The Boat Oyster Bar on the oyster farm in Marshall, where you'll get to eat them fresh out of the water while drinking great wine and sitting at a waterside picnic table. But, if you're not in the mood to make the drive (or can't snag a very hard-to-get reservation), the Ferry Building restaurant is an exceptional second choice. There, you'll find seating (indoors and out) overlooking the Bay, seafood fresh off the boats, including oysters served on the half-shell as well as several grilled preparations, produce from local farmers markets, and excellent cocktails. You'll also find one of the best grilled cheese sandwiches in SF, which we understand has nothing to do with seafood but is still very much worth an order.
How to book: Walk-ins only.
Tuesday
11:00 AM - 9:00 PM
Wednesday
11:00 AM - 9:00 PM
Thursday
11:00 AM - 9:00 PM
Saturday
11:00 AM - 9:00 PM