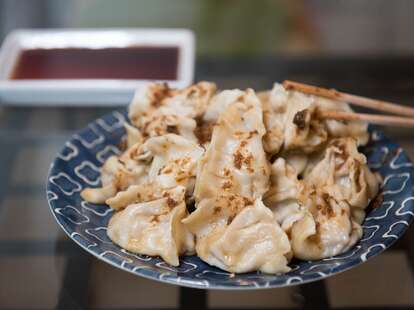 Ping's Dumpling House & Market
Opened in one half of a Chinese grocery store, Ping's serves a small selection of Northern Chinese eats, but make no mistake, you're there for a plate of their signature pork dumplings, made using traditional ingredients from a recipe that's been handed down for three generations.
Wednesday
9:30 AM - 9:00 PM
Thursday
9:30 AM - 9:00 PM
Saturday
9:30 AM - 9:00 PM
This tiny dumpling shop started out as a mini mart, but soon people flocked here mostly for the freezer full of home-made dumplings. Over time, the dumpling operation took over more and more of the space, eventually becoming the full-fledged restaurant of its current incarnation. Though it earned a reputation for making Shanghai-style soup dumplings before any of the bigger players came to town, the owner—and the best dishes on the menu—actually hail from Qingdao, including street food, meat skewers, and many other varieties of dumplings.
Wednesday
9:30 AM - 9:00 PM
Thursday
9:30 AM - 9:00 PM
Saturday
9:30 AM - 9:00 PM