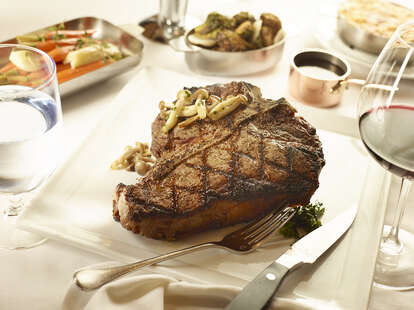 Courtesy of Charlie Palmer Steak
Charlie Palmer Steak, located in the United Brotherhood of Carpenters building, is a timeless restaurant notoriously known as a power lunch spot for politicians, where many are known to eat in one of its private dining spaces comprised of spherical dark wood enclaves. Politics aside, the menu offers some of the best cuts of beef such as an aged Angus Rib-eye "Cowboy" steak and seafood classics.
Monday
11:30 AM - 10:00 PM
Tuesday
11:30 AM - 10:00 PM
Wednesday
11:30 AM - 10:00 PM
Thursday
11:30 AM - 10:00 PM
Friday
11:30 AM - 10:00 PM
Saturday
5:00 PM - 10:30 PM
At Charlie Palmer Steak the team goes to great lengths for farm-to-table freshness. That includes a private garden for growing vegetables and ingredients for other sides that accompany more than a half-dozen cuts of steak available. Charlie Palmer also is where you're most likely to find lobbyists lunching. It has an eye-sight view of the US Capitol Building that makes the dining room feel truly monumental.
Monday
11:30 AM - 10:00 PM
Tuesday
11:30 AM - 10:00 PM
Wednesday
11:30 AM - 10:00 PM
Thursday
11:30 AM - 10:00 PM
Friday
11:30 AM - 10:00 PM
Saturday
5:00 PM - 10:30 PM