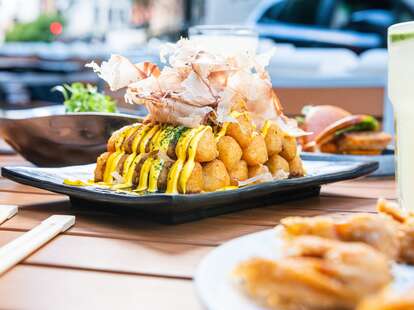 Photo courtesy of China Chilcano
José Andrés' Penn Quarter restaurant boasts a menu with Peruvian, Chinese, and Japanese influences, and a number of delicious cocktails and desserts.
Monday
11:00 AM - 10:00 PM
Sunday
11:00 AM - 10:00 PM
Tuesday
11:00 AM - 11:00 PM
Wednesday
11:00 AM - 11:00 PM
Thursday
11:00 AM - 11:00 PM
Friday
11:00 AM - 12:00 AM
Saturday
11:00 AM - 12:00 AM
Peru's Chifa, Nikkei, and Criollo cuisines are on full display at China Chilcano, a South American restaurant from Jose Andres that seamlessly blends food traditions from its indigenous people and immigrant communities. Chef Will Fung's menu includes dishes like "dancing" yucca fries topped with bonito flakes, amarillo mayo, and kabayaki sauce, plus lettuce wraps with Kung Pao chicken, fried rice, and crispy sweet potatoes. Don't skip out on the ceviche either, as there are seven different varieties to sample here. The bar's daily Pisco Hour is also the perfect pre-game stop, the bar serves $7 Peruvian-style pisco cocktails, plus $5 beers, $6 wines, and dim sum bites that range from $5 to $10 each from 4 to 6 pm.
Monday
11:00 AM - 10:00 PM
Sunday
11:00 AM - 10:00 PM
Tuesday
11:00 AM - 11:00 PM
Wednesday
11:00 AM - 11:00 PM
Thursday
11:00 AM - 11:00 PM
Friday
11:00 AM - 12:00 AM
Saturday
11:00 AM - 12:00 AM