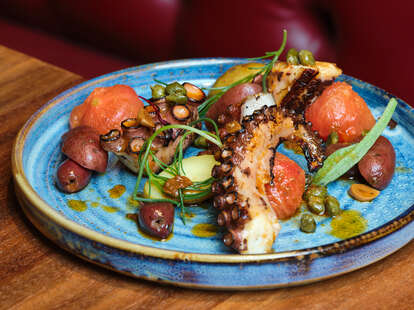 Photo courtesy of Anima by EDO
Anima is a tapas restaurant from the team behind EDO (a bucket-list dining destination in its own right) at the Gramercy near Summerlin. Chef Oscar Amador has perfected a menu that retains its core Spanish influence while mixing in inspired global elements. More than simply "EDO West," Anima has a larger, more contemporary dining room with food stations and hand-painted murals, adding to the charm and energy of the space. A few items carry over from EDO (such as the croquetas and a fantastic dry-aged strip loin carpaccio), but most of the menu is brand new. There's a notable emphasis on seafood, so order the Peruvian-style scallop crudo, spicy Bluefin sashimi, and skin-on branzino with sauteed pork cheeks for the table to share. Pastas are also a priority. The truffle cavatelli is topped with bone marrow tableside, while a single large ravioli (with Dungeness crab, sweet corn, ricotta, and poached egg) is an ultra-popular special on its way to the regular menu any day now. The hardest decision is choosing between one of 150 wines (with an emphasis on small producers) or a cocktail from the roving gin and tonic cart.
How to order: Book a reservation online or call 702-202-4291.