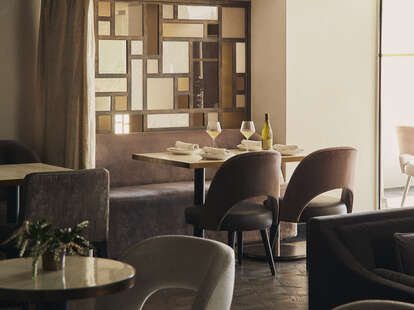 Photo courtesy of Avec Nous
Avec Nous is a contemporary take on the classic French bistro; a hip St. Tropez vibe that delivers a fresh culinary experience to Beverly Hills.
Tuesday
6:30 AM - 11:00 PM
Wednesday
6:30 AM - 11:00 PM
Thursday
6:30 AM - 11:00 PM
Saturday
6:30 AM - 11:00 PM
Nestled inside the Beverly Hills' L'Ermitage Hotel, this elegant spot focuses on bistro classics with a contemporary spin and offers a glitzy, Saint Tropez-inspired vibe. The service is sharply attentive, and the roaming champagne and boozy candy carts are an added bonus. Some of the highlights include the Foie Gras L'Orange, the tableside Cote de Boeuf for two, and a whole-roasted, Curried Cauliflower if you're skipping the meat. You'll also want to save room for desserts like the classic Amaretto Floating Island, or the Chocolate and Caramélia Mille-Feuille.
The classic Cal-French bistro in L'Ermitage hotel is offering a family-style Thanksgiving feast with highlights like turkey roulade with apple pecan mousseline filling and Sauterne jus, pomme puree with crème fraiche and white truffle, and a caramelized apple tart with fall spice crème Chantilly. There's also the option to go big and book a suite so you can enjoy what's likely to be a sunny view of the Hollywood Hills from the expansive rooftop pool.
Dine-in details: $85 per person and $45 for children under 12; 12–10pm.
How to book: Make reservations online.
Tuesday
6:30 AM - 11:00 PM
Wednesday
6:30 AM - 11:00 PM
Thursday
6:30 AM - 11:00 PM
Saturday
6:30 AM - 11:00 PM