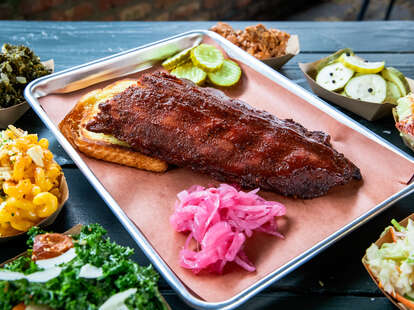 The basics: This newer spot from El Che executive chef-owner John Manion is located inside legendary Berwyn music venue FitzGerald's, which has undergone a host of welcome upgrades under new owner Will Duncan, including an Airbnb "sleepover castle" above the venue and mobile musician-in-truck concerts that drove around the neighborhood throughout the pandemic. Now back in full swing with live music almost nightly, Babygold Barbeque offers the perfect culinary compliment to a rollicking post-vax summer evening. Try a Berwyn-Style Super Deluxe BBQ Board, an ever-changing chef's choice of smoked meats, fixins, and sides, and wash it down with their own Babygold branded brews.
What the experts say: "Traditional BBQ [regions] are beholden to tradition and what people expect," says McKenna, emphasizing the unique vantage point that gives way to a Chicago 'cue pop-up like Babygold's flexible, wide-ranging approach. "We have more room to experiment and try different things."
How to book: Call 708-637-4364 and order via Toast for take-out.