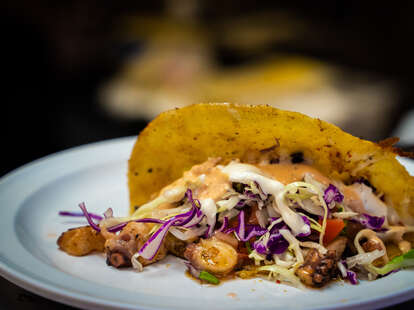 Photo courtesy of Bajamar
Photo courtesy of Bajamar
Tuesday
11:00 AM - 9:00 PM
Wednesday
11:00 AM - 9:00 PM
Thursday
11:00 AM - 9:00 PM
Saturday
11:00 AM - 9:00 PM
You've got two options for Bajamar, which puts a welcome seafood spin on Mexican street tacos. There's the original Downtown location on a gritty block of Las Vegas Boulevard or a newer version on Blue Diamond Road near the residential Mountain's Edge community. Either way, you'll appreciate an overachieving dedication to fresh seafood, including sauteed spicy octopus, smoked tuna, or grilled shrimp, which all taste great against the crunchy bite of a house-made taco shell. Only mozzarella cheese is used, since the mild flavor allows the other ingredients to stand out and shine. Everything is made to order—even the soups. Bajamar does brisk takeaway business, but if you plan to stick around a while, order a savory Michelada with a choice of Mexican beer.
How to order: Just walk in or place an order online for pickup or delivery.
Borrowing inspiration from the coastal regions of Mexico (and a hint of style from San Diego), Bajamar takes pride in having exceptional seafood, which arrives fresh every two days. Tacos, tostadas, and ceviche are the main vehicles for delivering shrimp, octopus, tilapia, and other bites. Everything is made to order—even individual servings of soup—and the restaurant is eager to accommodate any dietary or allergy restrictions. Tortillas are cooked with just a hint of crunchiness and mozzarella is the only cheese used (which sounds a bit odd at first, but allows the natural flavors of the seafood to emerge uninterrupted). La Paz is a taco made with smoked tuna in the style of carnitas. Wash it all down with a Michelada, prepared with a house mix and your choice of Mexican beer.
How to order: Place an order for pickup or delivery online—or just walk in and hang out a while.
Tuesday
11:00 AM - 9:00 PM
Wednesday
11:00 AM - 9:00 PM
Thursday
11:00 AM - 9:00 PM
Saturday
11:00 AM - 9:00 PM