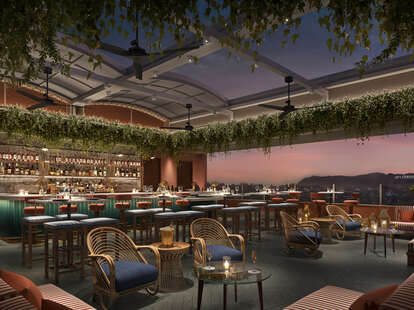 Photo courtesy of Bar Lis
Is LA turning into a walkable city? While that might be a stretch of the imagination, this rooftop bar is within easy stumbling distance from Desert 5 Spot, another recent addition to Hollywood's emerging Vinyl District—and both are situated on hotel rooftops in case you want to extend your stay. Blending the sophistication of the French Riviera with a laid-back LA attitude, Bar Lis offers a cocktail list and small plates menu that borrows inspiration from the European seaside. Make sure you stop by before sunset so you can take in unobstructed views of the Hollywood Hills, including the Hollywood sign, as the sun takes its final bow. Sip on refreshing cocktails like Strawberry Fields with Belvedere Vodka, St.Germain, strawberry, mint, rhubarb, and prosecco, or take things up a notch with the Petit Paloma with Patron Silver Tequila, chai-infused rum, grapefruit, lime, soda, and flower petal salt. After dark, Bar Lis comes alive with DJ sets, and the bar's retractable roof makes the space a year-round destination.
How to book: via Sevenrooms.
Escape to the French Riviera on the rooftop of the Thompson Hollywood. The chic terrace lounge offers indoor and outdoor seating with 360-degree views of Hollywood. On Tuesday nights listen to live jazz, while Thursdays, Fridays, and Saturdays bring live DJs that attract dancing crowds under the disco ball. Craft cocktails and snacks are on offer, including the La Vie En Rose, with Avion Silver, Kettle One peach and orange blossom, Cointreau, lime, hibiscus, and of course, sparkling rosé.
How to book: Make sure you have a reservation. On weekends there's typically a crowd waiting to catch the elevator to the party.