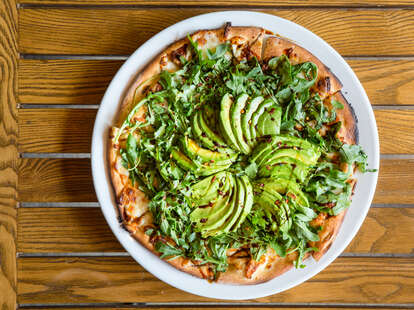 Barbusa

| Courtesy of Sam Wells
Barbusa

| Courtesy of Sam Wells
Tuesday
4:00 PM - 10:00 PM
Wednesday
4:00 PM - 10:00 PM
Thursday
4:00 PM - 10:00 PM
Saturday
11:30 AM - 11:00 PM
Sunday
11:30 AM - 10:00 PM
There's never been a better time to visit Barbusa for its delectable crudo bar, which opens at 4 pm Monday–Thursday and 11:30 am Friday-Sunday. A half-dozen chef's daily choice clocks in at a reasonable $17.96, so you might as well order a dozen or two.
How to book: Walk-ins are accepted if seating is available.
This modern Sicilian spot is owned and operated by the Busalacchi family, who, for the past 35 years, have built a legacy in Little Italy and helped turn it into the prime real estate it is today. While they've opened and closed several restaurants in the neighborhood over the years, Barbusa—which occupies the space that previously housed their Italian steakhouse Po Pazzo—is the one you can't miss. Developed by family patriarch chef Joe Busalacchi and his nephew executive chef Nino Zizzo, the menu brims with house-made pastas (like Lobster Ravioli and Cavatelli with Bone Marrow), wood-fired pizzas, crudo, and more—with all seafood and produce sourced from local purveyors. A complete redesign six years ago saw the installation of a stunning Carrara marble bar and crudo station, a chilled case for all the meats and specialty cheeses imported directly from Italy, and an eight-person chef's table.
How to book: Make reservations online.
Tuesday
4:00 PM - 10:00 PM
Wednesday
4:00 PM - 10:00 PM
Thursday
4:00 PM - 10:00 PM
Saturday
11:30 AM - 11:00 PM
Sunday
11:30 AM - 10:00 PM