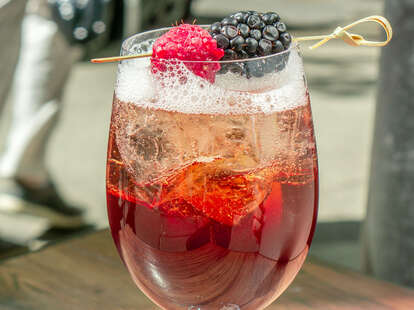 Featured In
Where to Grab a Drink in NYC Right Now
This Korean gastropub known for shareable plates, good drinks, and a large vibrant moon gracing each of their dining rooms opened their third Manhattan branch earlier this spring. It's thankfully located on a stretch of 6th Avenue that's in dire need of a good watering hole, making Barn Joo NoMad a neighborhood oasis. Go for signature cocktails like the Berritas Margarita (tequila, seasonal berry syrup, pomegranate vinegar) or Korean-inspired options like the Jeju Spritz (bokbunja, campari, sparkling wine) and Toasted Sesame Manhattan (sesame washed bourbon, drambuie, whiskey bitters). A culinary speciality specific to this locale are the open rolls with seafood and more, and save room for short ribs or the popular Pasta Nomad Noir with black ink squid tagliatelle, crab, shrimp, mussels, and a bechamel five-cheese sauce.
NYC's Best Bar Snacks Actually Worth Paying For
The third location of Korean drinking den and small plate number Barn Joo is now soft open in NoMad, and with the debut comes a new bar snack menu specific to the area. Alongside soju and Korean-accented cocktails, the team is offering kimchi-steamed dumplings and a riff on maki rolls, with proteins like galbi, saewoo twigim (deep fried prawns), or shiitake and black truffle.