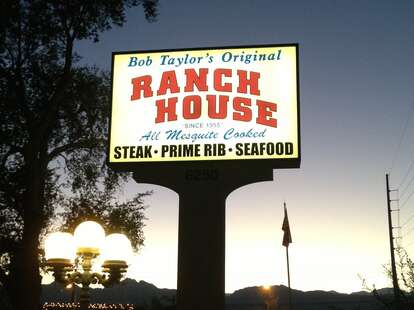 This wood-paneled, ranch-style resto serves mesquite grilled steaks and seafood.
Monday
11:00 AM - 10:00 PM
Tuesday
11:00 AM - 10:00 PM
Wednesday
11:00 AM - 10:00 PM
Thursday
11:00 AM - 10:00 PM
Sunday
11:00 AM - 10:00 PM
Friday
11:00 AM - 11:00 PM
Saturday
11:00 AM - 11:00 PM
Built in 1955, the longest-running steakhouse in Las Vegas was originally the home of Bob Taylor, who threw dinner parties for friends and somewhere along the way, the place turned into a proper restaurant. The main dining room still has a homey feel with an arched ceiling, fireplace, and wood-paneling. It's a quiet destination with the flame, spark, and crackle of a mesquite grill providing most of the energy. The walls are decorated with Old West movie posters and photos of cowboy heroes like John Wayne and Roy Rogers. You get the feeling the old wagon wheels out front have been around since the beginning. Bob Taylor's Ranch House was once all alone in the middle of the desert on remote backroads, but is now surrounded by the growing Centennial Hills community in the Northwest Valley.
How to book: Call 702-645-1399 to book a dinner reservation. It's pretty easy to just walk in and score a table during lunch hours.
Monday
11:00 AM - 10:00 PM
Tuesday
11:00 AM - 10:00 PM
Wednesday
11:00 AM - 10:00 PM
Thursday
11:00 AM - 10:00 PM
Sunday
11:00 AM - 10:00 PM
Friday
11:00 AM - 11:00 PM
Saturday
11:00 AM - 11:00 PM