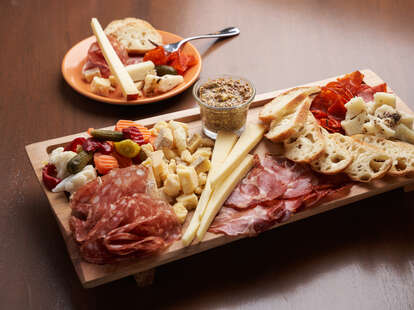 Photo by Robiee Ziegler, courtesy of Boom Bang Fine Foods
Boom Bang
Modern European Restaurant
Boom Bang Fine Foods combines the vision of Christian Page (formerly of Nancy Silverton's LA empire) and wife Elia Aboumrad-Page, the first female sous chef under Joёl Robuchon, offering a gourmet take on American comfort food with a few surprises and global influences. The dining room has a cozy touch of vintage decor and colorful wallpaper with a grill on the outdoor patio. The menu is shaped by the seasonal availability of ingredients, reflected in the restaurant's latest offering of signature savory tarts. The corn dogs are the most popular appetizer—a clean bite of natural Niman Ranch franks, honey-sweetened batter, and mustard sauce. Yet Boom Bang shines brightest with its entrees, especially hearty proteins like a slow-cooked, tender pork shank with Asian soy sauce, short rib rolled onto itself on a tomahawk bone, and duck confit cooked in its own fat for 20 hours and oven-roasted to order for a crispy exterior with poached pear on the side. Aboumrad-Page pays tribute to her old boss with creamy Robuchon-esque mashed potatoes that pair well with any dish.
This brand new restaurant is serving up special Thanksgiving tarts—buttery pastries stuffed with turkey, cranberry, and other holiday-worthy flavors. It's a great item to bring to a party, available as singles or a dozen. You can also grab a pumpkin pie or Winter Morning (chocolate, caramel, and marshmallow) pie.
Cost: Tarts are $15. Pies are $25.
How to book: Pick up until 3 pm on Thanksgiving Day. Call 702-478-6200 to place an order.