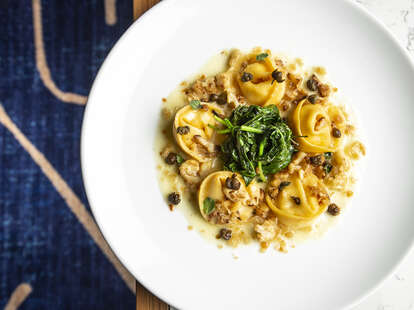 Photo by Sabin Orr, courtesy of Brezza
Tuesday
11:30 AM - 3:30 PM
Wednesday
11:30 AM - 3:30 PM
Thursday
11:30 AM - 3:30 PM
Saturday
11:30 AM - 3:30 PM
Tuesday
5:00 PM - 10:00 PM
Wednesday
5:00 PM - 10:00 PM
Thursday
5:00 PM - 10:00 PM
Saturday
5:00 PM - 10:00 PM
The gist: Brezza is one of the things we're most excited about at the recently opened Resorts World. The restaurant offers a modern interpretation of classic Italian cuisine via inventive recipes by Nicole Brisson, who formerly ran the groundbreaking dry-aging program at Carnevino. After helping to launch Locale and the Vegas outpost of Eataly, she's finally in her own element with the freedom to stretch some creativity and showcase a fierce dedication to fresh, local ingredients. The dining room is bright and open, but the large outdoor patio steals the show, surrounded by the glow of the Strip and 65-year-old olive trees preserved from when the property was known as the Stardust.
The food: Brezza is best enjoyed as a complete multi-course experience, beginning with farm-focused antipasti and some of the best salads on the Strip before continuing with vibrant pastas and meat or seafood dishes. There's thoughtful consideration given to vegetarian recipes, and you can't go wrong with the Ricotta Corzella with heirloom tomato butter sauce and fried artichokes. Steaks are dry-aged locally in collaboration with Creekstone Farms and flame-cooked over white oak.
How to order: Book a reservation online.
Brezza follows the vision of executive chef Nicole Brisson, whose pursuit of fresh local and regional ingredients is rare for a restaurant inside a big new hotel like Resorts World. The salads are uniquely flavorful and pastas are prepared with a delicate touch, including a perfectly cooked al dente squash ravioli brightened by a restrained sage and brown butter sauce. And you won't find an Italian restaurant with better steaks in Las Vegas. Brisson oversees her own dry-aging program with Creekstone Farms cuts grilled over wood and served with a sprig of rosemary. The lineup of negronis is intriguing, but don't hesitate to discuss the Old World wines (with a remarkable selection available by the glass) with the somm on duty. The dining room is complemented by a spacious outdoor patio, framed by the glow of mid-Strip marquees.
How to book: Book a reservation via Seven Rooms.
Tuesday
11:30 AM - 3:30 PM
Wednesday
11:30 AM - 3:30 PM
Thursday
11:30 AM - 3:30 PM
Saturday
11:30 AM - 3:30 PM
Tuesday
5:00 PM - 10:00 PM
Wednesday
5:00 PM - 10:00 PM
Thursday
5:00 PM - 10:00 PM
Saturday
5:00 PM - 10:00 PM