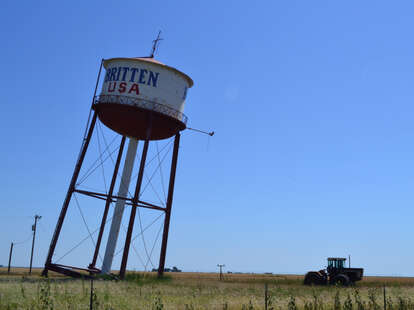 Britten Leaning Water Tower
The first stop on your swing through the Panhandle is Groom, a small town with two claims to fame—or roughly one per 300 people. The Leaning Tower of Texas is an old water tower tilted at a striking 10-degree angle, and while it may appear ready to crash toward the earth, it's been standing strong for decades. It's the brainchild of Ralph Britten, who used the eye-catching structure as a marketing ploy to draw passersby to his truck stop and restaurant. The truck stop and restaurant burned down years ago, but the tower lives on.
Just a few minutes west lies a bonus curiosity: A 190-foot-tall white cross visible for hundreds of miles across the flat landscape.