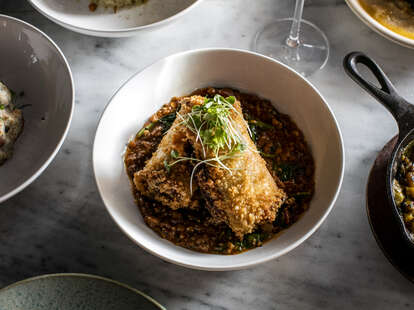 Cadence
Southern / Soul Food Restaurant
The 21 Best Vegan and Vegetarian Restaurants in NYC
This soul food spot from vegan restaurant group Overthrow Hospitality ranks high on the list thanks to its unique offerings that herbivorous eaters rarely get to enjoy. At Cadence, the simple menu from executive chef Shennari Freeman manages to hit all the spots, flaunting redefined classics like Southern fried lasagna with red wine "Bolognese" and pine nut ricotta; a fried Buffalo oyster mushroom sandwich enclosed in a pretzel bun; expertly seasoned smoked grits; and a housemade fruit cobbler. The wine menu exclusively features bottles from Black-owned wineries, and watch its social media for details on its still-developing takeout program.
20 Essential East Village Restaurants
Tapping into chef Shenarri Freeman's Virginia upbringing, Cadence, a plant-based soul food restaurant under Overthrow Hospitality that opened this spring, reconfigures traditional Southern cuisine. A vegan herself, chef Freeman's menu keeps true to beloved Southern dishes with flavorful renditions like palm cakes with chickpeas, heart of palm, and chipotle aioli slaw; smoked grits with torched oyster mushrooms and rosemary butter; or the popular southern fried lasagna made with red wine bolognese, pine nut ricotta, and spinach. Pair everything with a wine list highlighting Black-owned wineries from the U.S., France, and South America.