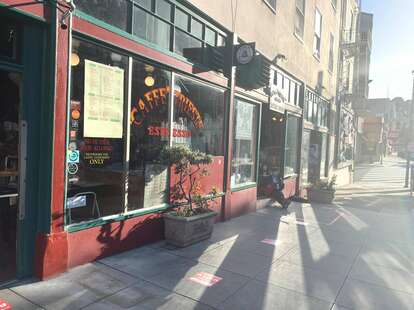 Photo courtesy of Caffe Trieste
Contact Caffe Trieste in San Francisco, CA, and delight yourself with the best espresso coffee in the area in our cozy coffee house.
Tuesday
6:30 AM - 10:00 PM
Wednesday
6:30 AM - 10:00 PM
Thursday
6:30 AM - 10:00 PM
Saturday
6:30 AM - 11:00 PM
This family-owned coffee destination opened in 1956 and claims to be the first espresso coffee house established on the West Coast. (We choose to believe that claim because the coffee tastes even better that way.) Today, this iconic neighborhood gem is a welcoming haven for local artists, musicians, and tourists alike, as well as a casual spot to people-watch, catch up with friends, and listen to live music on Saturdays.
Tuesday
6:30 AM - 10:00 PM
Wednesday
6:30 AM - 10:00 PM
Thursday
6:30 AM - 10:00 PM
Saturday
6:30 AM - 11:00 PM