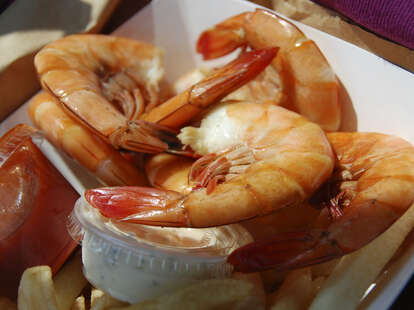 Photo courtesy of Calumet Fisheries
Photo courtesy of Calumet Fisheries
Tuesday
10:00 AM - 9:45 PM
Wednesday
10:00 AM - 9:45 PM
Thursday
9:00 AM - 9:30 PM
Saturday
9:00 AM - 9:45 PM
Open for near a century, and run by the same family since 1948, it doesn't get much more quintessential old-school than Calumet Fisheries. As casual and frills-free as they come, this teeny fish shack on the edge of the Calumet River is a true throwback to yesteryear—to a time when boats would chug by and the area's large Scandinavian population would reap their rewards in the form of smoked salmon, shrimp, trout, and sable. Although South Deering's demographics have changed, the timeless craving for fish has not. To this day, the cash-only shanty still stocks its counters with fish and seafood that undergoes a tedious process of marinating overnight, baking, and hanging to smoke over wood for several hours in an attached smokehouse. Devoid of indoor seating, this is the kind of place you come to stock up on smoked fish (and a side of macaroni salad) and get down 'n' dirty on the hood of your car, while overlooking the adjoining 95th Street bridge made famous by the car-jumping scene in The Blues Brothers.
How to book: Delivery is not available, nor are reservations, but feel free to visit the smoke shack to dine outside, or call 773-933-9855 to place an advanced order.
One of the quintessential old-school restaurants in Chicago, Calumet Fisheries has been smoking fish and seafood from the banks of the Calumet River for the better part of a century. Endearingly rustic and casual, the shack-like eatery looks utterly preserved in time, with the same enduring loyalty that it's maintained since its earliest heyday as a fishy staple for South Deering's once-thriving Scandinavian population. The tried-and-true icon, run by the Kotlick-Toll family, still marinates its fish overnight before baking it and wood-smoking it in its on-site smokehouse—everything from catfish and eel to rainbow trout, sable, plump shrimp, sturgeon, and herring. The cash-only counter-service joint doesn't take reservations or have any seating to speak of, so prepare for a finger-licking and fragrant feast in your car. It just feels right.
Tuesday
10:00 AM - 9:45 PM
Wednesday
10:00 AM - 9:45 PM
Thursday
9:00 AM - 9:30 PM
Saturday
9:00 AM - 9:45 PM