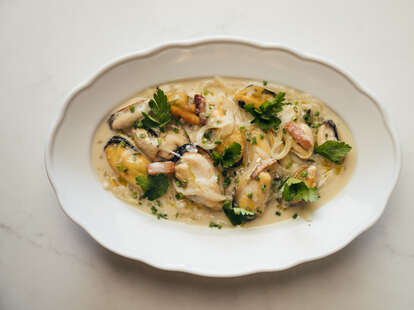 Photo by Josh Telles
Photo by Josh Telles
Thursday
5:30 PM - 11:00 PM
Saturday
5:30 PM - 11:00 PM
A newer addition to LA's bustling French food scene is this neighborhood bistro which joined the formidable fine dining scene in the Downtown Arts District in early 2022. Led by co-chefs Max Boonthanakit and Lijo George, who both trained under chef Alain Ducasse, expect French techniques informed by the pair's global upbringing and featuring vibrant, Kerala-sourced spices. The 65-seat restaurant and bar transformed the former Nightshade space with white brick walls, marble tabletops, and blue velvet booths, plus bar seating that offers a view into the busy open kitchen. At first glance the menu seems simple, with dishes named plainly, but don't be fooled by this presentation: for example, the crowd-favorite chicken is slow-roasted, stuffed with chicken thigh mousse, and finished tableside with chicken jus from an antique silver sauce dish. Similarly, the dry-aged Dover Sole is fileted tableside and topped with blanco Grenobloise. Helmed by Kalani Lau, the wine list features picks from Burgundy and across Europe, with bottles that you're unlikely to find elsewhere in LA.
How to book: Reservations are recommended but walk-ins are accepted.

Brought to you by a couple of Alain Ducasse alums, it's easy to forget that Camphor occupies the former Nightshade space, as it's been transformed into a lighter, brighter restaurant with a French bistro feel. The menu follows suit, with nods to simple ingredients and French dishes that are given an extra punch with South Asian flavors. It's a perfect date spot, but going with a group will let you sample a whole lot more, like small plates of Glazed Vegetables with Truffle, Clams in garlic-parsley butter, and crispy Crab Barbajuans (kind of like the French version of a mini empanada), as well as entrees (most sauced tableside) of tender chicken accompanied by a chicken jus, a hearty Mushroom dish topped with rice and madeira, and a sliced Lobster with Coral Bisque, all of which pair perfectly with killer Pommes Frites (ask for all the sauces). The cocktails taste as good as they look and the list of wines by the glass is full of interesting finds.
Thursday
5:30 PM - 11:00 PM
Saturday
5:30 PM - 11:00 PM